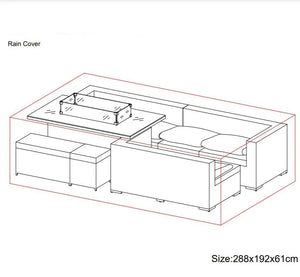 Measurement 
288cm x 192cm x 61cm.
These rain covers will fit the Jamaica Corner Sofa with the Rising Table as well as the static Dining Table. This is a great way to protect your cushions from summer showers.
There are drawstrings to tighten the fabric around the bottom if needed. 
The covers are made of a lightweight but strong breathable material.
These covers will lengthen the life of your garden set by protecting it over the winter against the elements.
Please note that it is not advisable to leave the cushions on the sofa for a long period of time, as when the winter months approach the air can be extremely damp. This can lead to mould on the cushions. In winter time store the cushions somewhere dry. 
The rain covers will bleach over time in the sunlight.