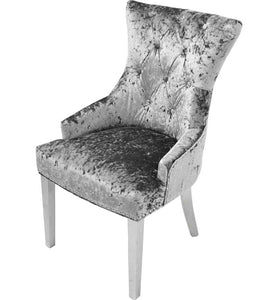 Elegant and plush dining chairs, finished with beautifully detailed upholstery that creates a luxurious and sophisticated look.
The fashionable Paragon dining chairs feature a sturdy Silver Metal Frame
Stylish &  Comfortable Designs At Great Prices .
Available in Grey and Silver Colours.
These chairs are sold in pairs so the price is for 2. 
Colour :   Silver.
Delivery is a 4-6 week on this colour/ model. For accurate delivery time send us a message.