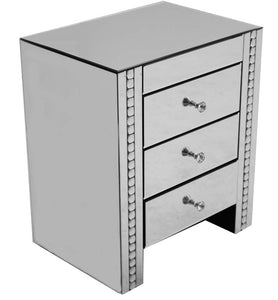 Glam up your room with this  Silver Crystal 3 drawer bedside. This handsome furniture is a perfect blend of contemporary style with functionality.
Featuring silver mirrored glass with MDF and perfectly placed acrylic crystals adds a splash of opalescent style to the design.
The 3 drawers provide ample space for storage and features elegant crystal knobs.
This stunning piece of furniture is  a part of the popular 918 design series and will make itself a focal point of any bedroom space.
Dimensions :56.5CM( L ) x 40.5CM (D) x 66.8 cm (H)
Colour : Clear /Silver .