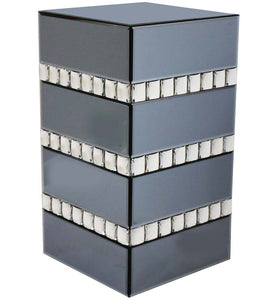 Cutting Edge beauty and incredible gleam combines to create this striking Smoke crystal display stand. This imposing pedestal display stand would be useful as a side table, a plant stand or lamp stand.
Featuring mirrored glass body with MDF and decorated with acrylic crystals in three vertical lines makes this piece a real head turner.
This  beautiful modern deco furniture is  a part of the popular 918 design series.
Perfect for adding a subtle splash of glamour to contemporary spaces.
Dimensions :32.8CM( L ) x 32.8CM (D) x 61cm (H)
Colour : Smoke .